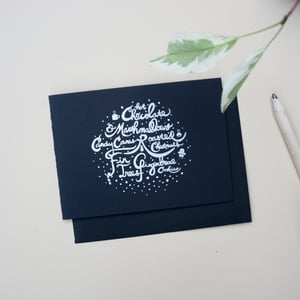 $

5.00
This card was letterpressed with a metallic silver ink on a 130lbs. black cardstock.
Comes with a black envelope.
Specs:
Card: 4"H x 5.5"W, folded on the shorter side of the card.
Envelope: 4.38"H x 5.75"W
Note:
To write the message inside the card, I used a white gel pen and for the address on the envelope, I printed them on a white label.
------------------------------
Thanks to Tanya at Snap + Tumble for all the letterpressing help.