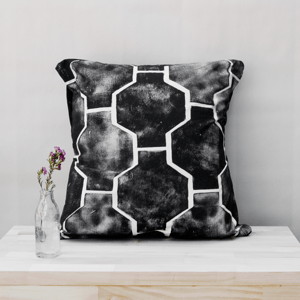 $

50.00
In lantern pattern, in dark and sexay black. All cushion covers are hand stamped and sewn by myself.
Made with 100% cotton fabric, with envelope closing. Back side (envelope side) is made with a heavier fabric.
Will fit an 18" x 18" cushion insert, but I recommend a 20" x 20" cushion insert for a plush look.
Like any handmade items, each item comes with its own charming flaws. Please embrace often.
—
100 % Cotton
Machine wash inside out in cold water, hang dry.
Iron on Cotton setting on the wrong side.
—
Note:
• Cushion covers do not include cushion inserts, which can easily be purchased at local fabric stores or at IKEA.
• Each covers is made per order. Please allow 4 days production time.