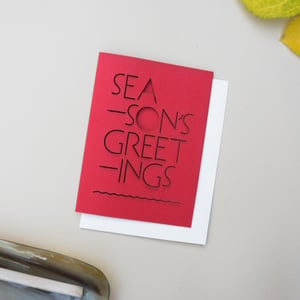 $

4.00
This card was laser cut with a custom typeface on a red 100lbs. cardstock.
Comes with a cream envelope.
Specs:
Card: 4"H x 5.5"W, folded on the longer side of the card.
Envelope: 4.38"H x 5.75"W
Note:
Due to the nature of laser cutting, burnt edges are to be expected.
To write the message inside the card, I used a black pen, but a white gel pen works just as well. Keep in mind because of the laser cut front, the message will show through the front panel.